Piano Lessons & Instruction (ages 5-adult)

Piano Lessons are a cornerstone of our curriculum at LAAPA and were our very first program offered when we opened our doors in 1978. For over forty years now, our teachers have brought the joy of learning to play the piano to thousands of students in the New Orleans / Northshore communities. Our students truly enjoy the learning process because lessons are structured in a way that is both progressive and fun! Our teachers specialize in working with students of all levels and ages. Brand new beginners are some of our favorite students since we can mold them from the ground up!
Private Piano Lessons at the Academy are offered at beginning-advanced levels in 30, 45, and 60 minute weekly sessions. Our instructors are able to teach a variety of styles of piano including: classical/traditional, jazz, rock, contemporary, christian, blues, gospel, country and more. We additionally have several teachers on staff that specialize in teaching and developing improvisational skills and reading from lead sheets (as commonly found in popular/rock/jazz/New Orleans music). Whatever style of piano you would like to learn, our instructors are ready to customize a lesson plan for you.
There is a reason that the piano is most often the first instrument of the beginning musician. Unlike almost every other instrument including the human voice, anyone (with absolutely no training) can immediately access and play all 88 available pitches by simply striking the notes on the keyboard. Assuming that you're playing a properly tuned piano and expression/dynamics aside, a beginner hitting a middle C will sound more or less exactly the same as a world class pianist playing the same note!
Wow - think about that and let it sink in for a minute! Beginners, especially children at a young age, are typically fascinated by the family piano and will often display an early interest in music by simply banging around on the keys to explore the sonic possibilities. Turning those sonic explorations and refining that banging around into music is where we come in!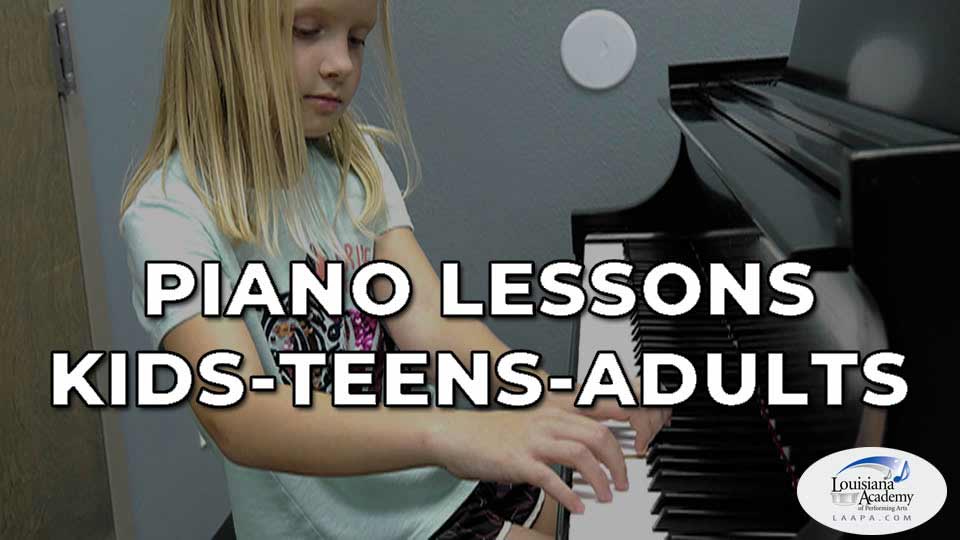 We know that you'll love working with our faculty as they are all hired for their abilities as communicators with clear, friendly and personable styles ensuring a cohesive learning environment and the ultimate success of the student. Our Faculty come to us from some of the best music schools and universities in the country which include Loyola University of New Orleans, the New Orleans Baptist Theological Seminary, Tulane University, Southeastern Louisiana University, University of Miami, Florida State University, Louisiana State University, Northwestern University, and more.
When choosing a piano teacher, it's important to know the instructor's background, i.e. where they have studied and what their primary style of training is. The world of music education is vast. Some instructors have a more classical background (such as those who have graduated from a University program with a degree in performance), while others may have more of a jazz/blues/pop background (such as those who have perhaps majored in jazz studies or studied commercial music). Whatever your needs and preferences are (classical, jazz/rock, church music, or a combination of many styles) we'll match you with the best piano instructor to help you develop your style and meet your musical goals!

Piano Teaching Methods:
Our Faculty at the Louisiana Academy of Performing Arts use a variety of nationally recognized method books such as Alfred, Faber & Faber, Bastien, Schaum, Glover, in addition to other literature that may be provided based on the individual needs of the student.
For the young beginner, our publishing division, "LAAPA Press" has developed our own educational series entitled, "Piano Prodigy" which is a colorful, fun and creative introduction to the world of music. You can learn more about this book store.laapa.com
When you enroll, you are additionally eligible to attend our weekly 45 minute music theory classes which are completely free of charge to all of our currently enrolled music students at our Covington, Harahan, and Mandeville music school. While this class is optional, it is certainly beneficial in terms of accelerating the student's proficiency in the fundamentals of how music works. Topics include - music notation, ear training, basic composition, scales, rhythm, and more.

Performance Opportunities
As in all of our programs, our students have several opportunities to perform each year. Each December and June, we hold our recitals at several venues including Nunemaker Auditorium and Roussel Hall on the campus of Loyola University in New Orleans, Solomon Theatre in Metairie, Victory Fellowship in Metairie, LA as well as Fuhrmann Auditorium in Covington, LA. We regularly add new performances and educational videos to our YouTube channel which you can watch here!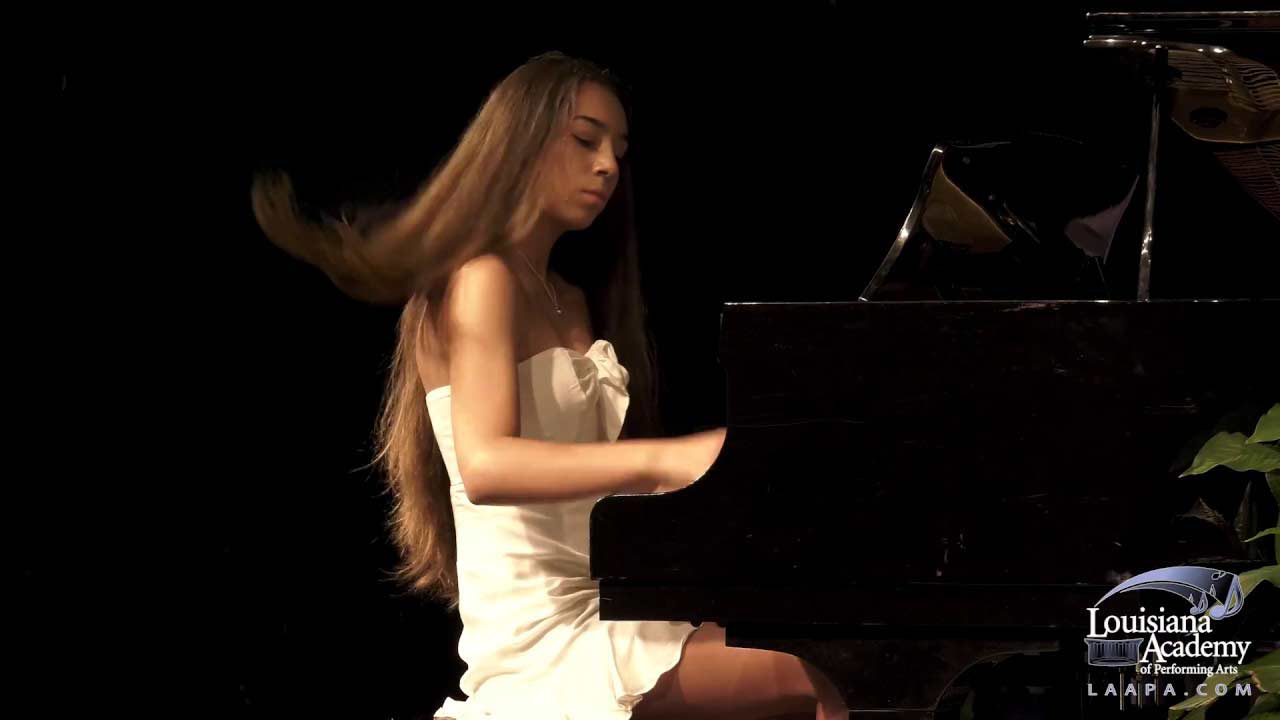 What Happens at Your First Piano Lesson?
Your piano teacher looks forward to meeting you at your first lesson! The first lesson of a beginning student will obviously be very different from an advanced student or even a student with very specific goals/musical interests. For brand new beginners, you'll learn all about the musical alphabet A-G, finger numbers, common shapes of the piano keys, patterns on the keyboard and the difference between the black keys and the white keys, identifying high and low notes, curving your fingers, positioning your hands and wrists, proper posture, and more! Of course your teacher will also take the time to get to know your musical interests so that he/she can show you how to play your favorite songs and introduce new ones with a similar style that you may enjoy learning!
What Will Each Lesson Consist Of?
Again, this varies greatly depending on the goals/musical interests of the student, so we will be outlining a traditional piano lesson here. During each lesson, you'll begin with warm-up exercises typically consisting of major and minor scales and arpeggios, finger strength building exercises like Hanon, Czerny, A Dozen A Day, etc. Your teacher may also spend a few minutes checking over your theory workbook or practicing music flashcards with you if you if you aren't attending our optional (and completely free) weekly theory classes. A review of the previous week's lesson plan will begin next to gauge the student's comfort level before then proceeding to the introduction of new concepts and repertoire. Time is always set aside each week to work on your favorite music as well to keep things fun and exciting! At the end of each lesson, students may receive a red ticket for a job well done which may be saved up for the redemption of a variety of prizes in our treasure chest or for Academy merchandise like books, t-shirts, tote bags, etc. We have something for all ages to encourage exceptional practice habits!

Classroom Facilities
At Laapa, we want the very best for our students which is why all of our classrooms have well maintained, hand picked Yamaha, Kawai, Young Chang, Steinway, and American instruments. All of our students take their lessons on real acoustic pianos. Digital pianos have made a tremendous amount of progress over the years, and while a keyboard is perfectly suitable for beginning students to practice on outside of lessons, we believe lessons at a professional school of music should be conducted on high quality, acoustic instruments in order for the student to be properly trained in controlling dynamics, technique, pedaling, etc.
Our River Ridge Performance Hall, located at our Harahan campus features a 6 foot 7 inch Young Chang grand. Our Mandeville School of Music & Dance features two performance halls. Performance Hall A is equipped with a Yamaha C5 grand piano and Performance Hall B features a beautiful Steinway M donated to the academy by Philanthropist Anton Beck. Additionally, our performance halls at our Harahan and Mandeville campuses are linked to 32 channel Pro-Tools based recording studios available to students for free recording time!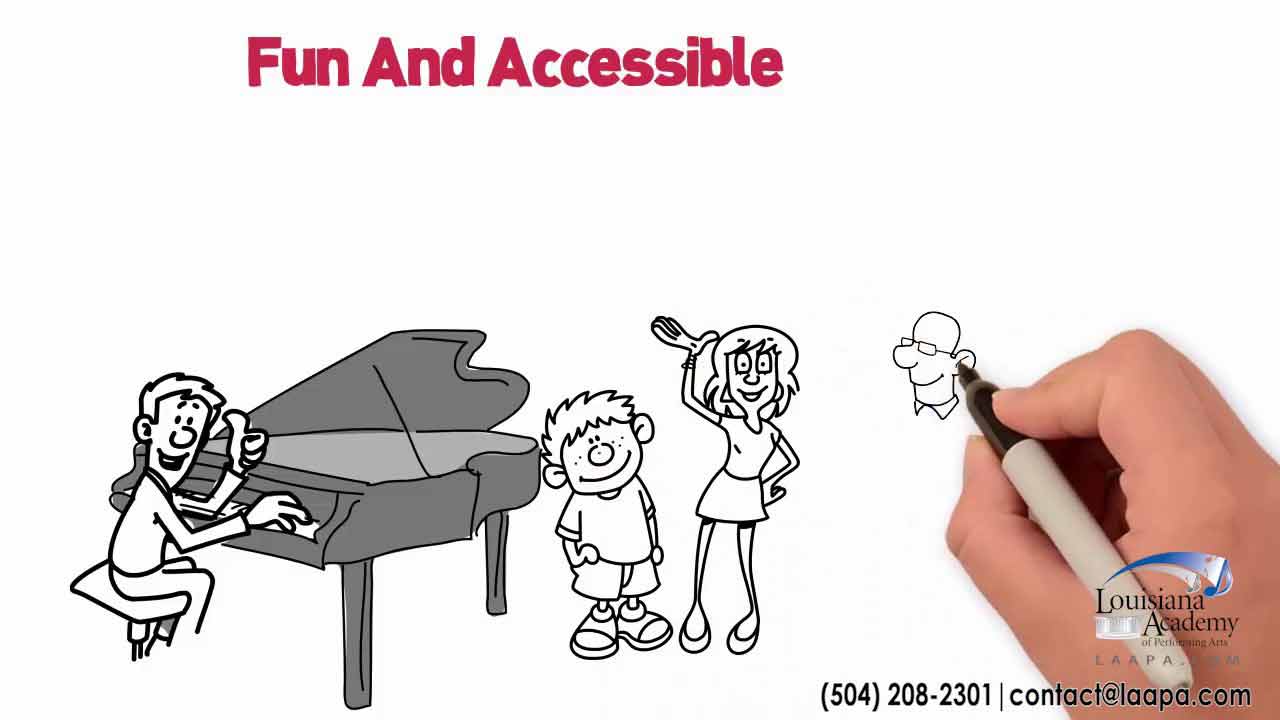 Do I Need a Piano or Keyboard to Get Started? What Kind of Instrument Should I Buy?
Keyboards vs Digital Pianos vs Acoustic Pianos - Which is Best for Home Practice? Some frequently asked questions that we receive are, "Do I need a piano at home in order to get started in lessons?" "What kind of piano should I buy?" "What are the differences between a keyboard and digital piano?" In order to maximize the progress of the student and ensure the most efficient use of each lesson, all students should have access to some type of keyboard instrument at home in order to practice outside of the regular lessons. While an acoustic piano is certainly always optimal should space and funds permit, digital instruments have come a long way in terms of tone, touch, and the overall playing experience. Digital instruments can cost as little as $100 and as much as several thousand dollars. Most times an excellent digital piano can be purchased for the same price as an old/poorly conditioned acoustic. Today the line is blurred even further with "hybrid" instruments by Yamaha and Kawai that feature the complete hammer actions of acoustics (with wooden keys) but strike sensors that trigger samples of each through complex built in speaker systems. Indeed, there are so many options available, but we ultimately recommend that you try them all out to see what fits your budget and will bring joy and motivation to the student so that practicing is an inspiring part of the day! Here are all of your choices to consider sorted by pricing (lowest-highest).
Keyboards ($-$$)
Keyboards are the most affordable, entry level instruments. They are usually lightweight, portable and have two built in speakers. Keyboards that students should consider are those with 61-88 full sized, touch sensitive keys (avoid any "micro keyboards"). Most keyboards in this class feature unweighted actions meaning that the keys are easy to press across the whole instrument (unlike an acoustic piano which features a graded hammer action). Many keyboards also come with a variety of extra sounds and fun features such as "auto accompany" "auto chords" and built in demos that make playing fun. The quality of the samples (sounds) are usually bottom of the line to the trained ear, but these instruments are more than adequate for the beginner and kids always love playing them.

Stage Pianos ($$-$$$)
More expensive keyboards are known in the industry as "stage pianos" and typically do not have speakers built in as they are built to be as light as possible with the highest quality for professional gigging musicians. They don't need the speakers since they will plug into external amplification or stage sound systems. Students purchasing a stage piano should also budget for high quality headphones, a pair of monitors, or a keyboard amp. Most stage pianos will have better samples and actions than entry level keyboards. Stage pianos are usually built with 73-88 keys exclusively with semi-weighted and fully weighted actions. Since stage pianos are built for professional use, they typically don't come with fun background accompaniments or many "extras" like keyboards do.
Used Acoustic Pianos ($-$$$$)
Let's say you have a budget of $100. A keyboard is probably going to be a better investment since a $100 acoustic piano is usually going to have a lot of issues and will usually cost you several hundred dollars just to move it! Used pianos can be the biggest bargain or biggest mistake! There are great deals to be found, but when buying used, it's vital to have the instrument properly inspected by a Registered Piano Technician especially in our area where many instruments have suffered from flood damage. When buying used, we almost always recommend Japanese manufactured models made by Yamaha and Kawai since they last for decades. You can purchase restored or refurbished models from these brands and have them pass as brand new many times! Whenever purchasing a used acoustic piano, we always recommend having a "Registered Piano Technician" check it out and evaluate it. A great resource for determining a piano's value and how much you should pay is the "Piano Buyer" by Larry Fine.
Digital Pianos ($$-$$$$)
Digital pianos are similar in quality to most stage pianos and almost always feature 88 key graded hammer actions (to varying degrees). Some actions are heavier than others, so students should try out different models to see which feel the most comfortable under their fingers keeping in mind that their tastes may change as their strength grows with lessons. Some models, like Kawai and Yamaha's upper level hybrids, have complete acoustic actions and wooden keys in them. The more they closely resemble an acoustic piano, the higher the price. Digital pianos often look nicer in the home since they come with a variety of furniture cabinets that simulate the look of a real piano.
New Acoustic Pianos ($$$-$$$$$)
A new acoustic instrument can last a lifetime when maintained properly, and there's nothing like that brand new piano smell right? That smell comes at a premium though! Most new entry level acoustics start at 2-3k or more and frankly, there is usually nothing special about the sound or playing experience. A digital instrument is usually a better buy in our perhaps somewhat biased opinion. Once you get to 5-7k, the quality upright choices increase significantly. When considering form factor (uprights vs. grand pianos) keep in mind that a professional upright piano that is 52" tall will have nearly the same string length and output of a small baby grand and take up a lot less floor space. Also keep in mind that new stock at your dealer may already be a year or two old since pianos take a while to sell these days. Check the buyer guide link above to ensure that you are able to secure the best deal!
For more information on what to look for when selecting a digital piano, take a moment to watch our video below! Watch the video by Academy Director Ryan Cullen below as he discusses all of these questions in depth and what is needed to get started!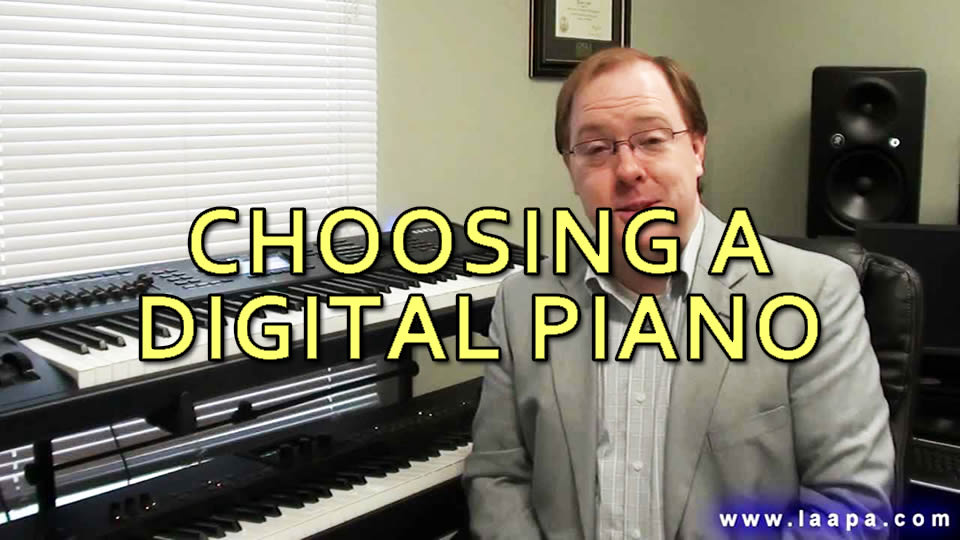 Learn more about our Piano Lessons at our other locations: Covington, Harahan, Kenner, River Ridge, Mandeville, Metairie, New Orleans