Mandeville Piano Instruction for Kids, Teens, & Adults
Piano Lessons at the Mandeville School of Music & Dance are by far one of our most popular programs! The piano program at our Academy was established on the Northshore in the early nineties, and each week hundreds of pianists ages 5-adult take lessons with us.
Piano instruction is available as a weekly 30, 45, or 60 minute session, and your piano instructor will tailor each lesson to your specific goals and musical interests. Students may choose from piano lessons in a variety of styles including popular, classical, jazz, blues, contemporary christian, country, boogie woogie, and more. Whether you want to learn the piano riff from Journey's "Don't Stop Believin'" or a Chopin Nocturne, we'll match you up with a teacher who specializes in the styles you are interested in learning!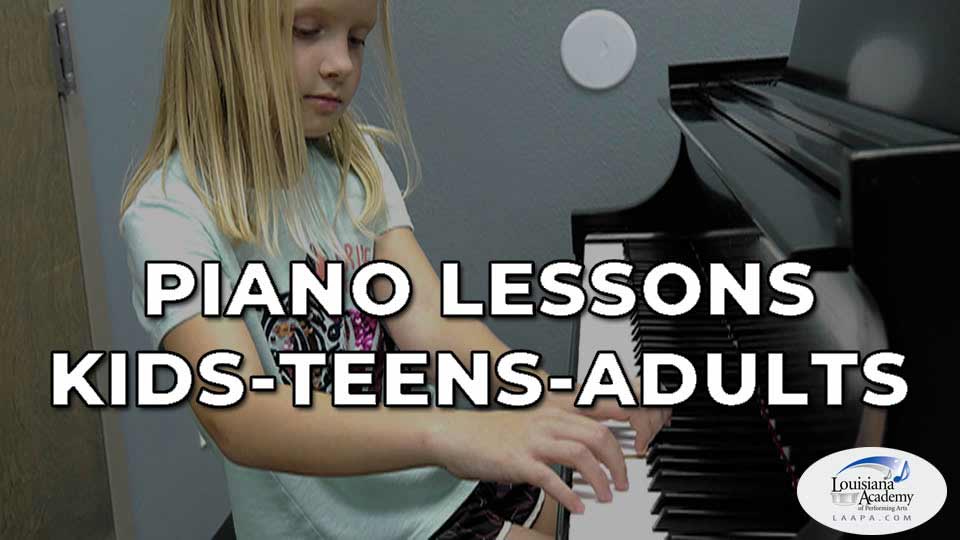 At our studio, students of all ages and levels are welcome and will feel right at home. At least a quarter of our piano students are brand new beginners just starting their journey. While we teach many children who are brand new beginners, we teach many adults as well. Many of our adult students tell us that they always wanted to take lessons as a child and never got around to it, or that they had some lessons but then stopped due a busy schedule. Whether your current experience is limited to rolling your knuckles around on the black keys whenever you pass by a piano, or you're an intermediate or advanced student ready to take your playing to the next level, we know you'll love working with our amazing teachers in a fun and low pressure environment. We always like to remind everyone that no matter your age, everyone was once a beginner, and there truly is no better time to get started than now!
Being one of the Northshore's most established cities, Mandeville naturally has many music schools and piano instructors and educators to choose from. So what makes our school stand out?
Inspiring & Enthusiastic Teachers
Each year, our school receives resumes from piano teachers at many of the top music schools in the country and all around the world. We hire only the top applicants who meet key qualifications that we feel are essential for a private instructor. In this way, we ensure that our students are able to get the most out of their lessons.
These key traits include:
Communication: One of the most important characteristics of a teacher is his/her ability to break down key concepts in a way that is easily understood by the student. Clear and precise communication allows the student to focus in on exactly how to approach, practice, and ultimately improve their piano technique.
Passion for Teaching: At our school, we don't hire professional musicians whose goal is to "teach on the side" when they aren't busy with gigs. Yes, many of our teachers are performers with incredible performance resumes, however, they have a true gift and love specifically for working with students and helping them to achieve success. A great teacher is able to demonstrate, listen, and inspire! Let's face it: no matter how talented a pianist someone may be, they have to love teaching and have a personable nature to reach their pupils! It's rare for any student to respond well to someone who is boring and goes on and on without taking the time to listen and/or anticipate the needs and interests of the students!
University Trained Professionals: Wherever you choose to take piano lessons, you shouldn't be afraid to inquire about the qualifications of your new piano teacher. While there are many excellent Music Schools in Mandeville with accredited piano teachers, there are others that unfortunately lack the expertise necessary to provide students with a well rounded piano program that focuses on all areas of the student's musical growth including music theory, history, harmony, understanding popular music notation, playing piano in a band vs playing piano solos, and more. With over 20 piano instructors here at the Mandeville School of Music & Dance, we are able to provide our students with access to some of the best and brightest educators on the Northshore! Our faculty members come to us from some of the most respected Colleges of Music in the World including the Eastman School of Music, the Julliard School of Music, University of Miami, Loyola College of Music New Orleans, Tulane University New Orleans and more.
Professional Teaching Environment
While in home lessons (either at a piano teacher's home or a student's home) may be convenient, taking lessons in a professional studio environment ensures:
Safety: The safety of our students, parents, faculty, and staff is paramount for us at Mandeville School of Music & Dance, which is why we have commited to the Official Family Safety Plan Pledge for Music and Dance Schools. This requires glass windows on all studio doors, office staff present at the Front Desk during all lessons, national, local, background and reference checks for all employees, security cameras installed in each teaching studio with central monitoring in the school lobby, as well as an Open Door policy to all parents. For more information on the Family Safety Plan, visit www.familysafetyplan.org.
Distraction Free: Our studios are all 100 % dedicated to teaching and are free of the many distractions found in the home such as TV noise, cell phones, neighbors, door bells, dogs barking, other family members passing through the lesson, and more. Our students also have the opportunity to become a part of the performing arts community and meet other musicians, dancers and actors who take lessons in other areas such as singing, violin, drums, guitar, cello, trumpet, trombone, saxophone, flute, clarinet, drama, ballet, hip hop and more.
Dedicated Customer Service: In-home piano instructors typically do not have dedicated customer service since most of their days are spent teaching. As such, it may take them a while to assist you with rescheduling, billing, recitals, general questions, etc. At the Mandeville School of Music, we have several administrative assistants on staff ready to assist you either by phone or in person from 8 AM - 9 PM Monday-Thursday, from 8 AM - 7:30 PM on Fridays, and from 8 AM - 4 PM each Saturday.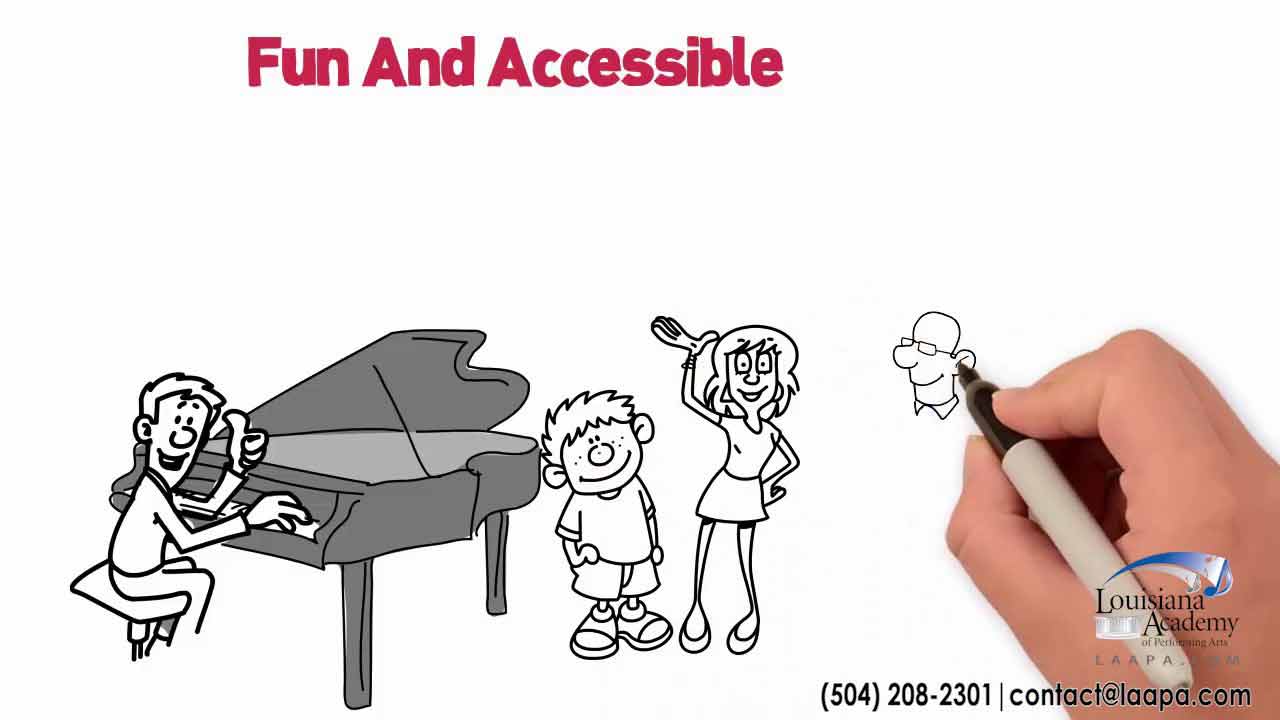 Variety of Available Piano Methods:
With so many amazing piano methods on the market today, our students have more access to exceptional learning texts than ever before. All of our Faculty use a variety of method books based on the interests on needs of each student. Some of the key piano methods that our teachers prefer include the following nationally recognized methods: Alfred, Faber & Faber, Bastien, Schaum, Glover.
For the young beginner, our publishing division, "LAAPA Press" has developed our own educational series entitled, "Piano Prodigy" which is a colorful, fun and creative introduction to the world of music. You can learn more about this book store.laapa.com.
Complimentary Music Theory Classes
In addition to weekly private piano lessons, all of our music students are eligible to attend a complimentary music theory class each week for 45 minutes! While this class is optional and students can choose to work on music theory at home and/or during their private lessons, having the extra time each week to focus solely on the fundamentals of how and why music works will greatly accelerate the student's proficiency in his/her private lessons and provide a general appreciation and understanding of the building blocks of all music. Topics include - music notation, ear training, basic composition, scales, rhythm, and more.
Complimentary Recording Sessions
All of our music students additionally receive a free recording session each year where they have the opportunity to fully produce their own music video. Our recording studio is fully stocked with premium mics and all necessary equipment, so you'll look and sound like a pro!
Variety of Performance Opportunities
Students at the Mandeville School of Music & Dance have many opportunities to share their progress with friends and family! Our formal concerts are held each December and June. Our June performances also feature a full award ceremony to celebrate the accomplishments of all students! All of our music students have the option to additionally audition for regular shows hosted by our drama department. Our talented group of faculty and staff are always writing new plays and musicals for our students to premiere, and parents and students always have a blast putting these special shows on. In 2021, we premiered an original Movie called, "Luna In Christmasland" Finally, LAAPAFEST is our annual music and dance festival where all students who have been studying in their discipline for at least one year have the opportunity to perform in front of a panel of three judges and receive constructive feedback and a chance to perform in our Honor's Recital. Many more students are selected to perform in an associated Virtual Recital as each performance during LAAPAFEST gets professionally recorded! All performance opportunities are optional as we never want to force anyone on stage before they are ready, but once students try it the first time, they are often hooked!
What Happens at Your First Piano Lesson?
Your piano teacher looks forward to meeting you at your first lesson! A beginning student's first lesson will be very different from an advanced student's or even a student that has specific goals or musical interests. For brand new beginners, you'll learn all about the musical alphabet A-G, finger numbers, common shapes of the piano keys, patterns on the keyboard and the difference between the black keys and the white keys, identifying high and low notes, curving your fingers, positioning your hands and wrists, proper posture, and more! Your teacher will also take the time to learn your musical interests, so he/she can introduce new songs in a similar style to your favorites that you may enjoy!
What Will Each Lesson Consist Of?
Most traditional piano lessons begin with warm-up exercises that typically include major and minor scales and arpeggios as well as finger strengthening exercises such as Hanon, Czerny, and A Dozen a Day. Your teacher may also spend a few minutes checking over your theory workbook or practicing music flashcards with you if you if you aren't attending our optional (and completely free) weekly theory classes. Following the review of the previous week's lesson plan, the student will be introduced to new concepts and repertoire based on his/her comfort level. As part of keeping things fun and exciting, time is always set aside each week to work on your favorite music! A red ticket is awarded at the end of each lesson for a job well done, which can be used to redeem a variety of prizes from our treasure chest or Academy merchandise like books, t-shirts, and totes. We have something for kids, teens, and adults to encourage healthy practice habits!
Reward Systems
Incentives for a job well done are important motivators for student growth, and all students have the opportunity to earn a ticket for a job well done for each lesson rated as "Superior"! Students can redeem their tickets for a variety of prizes from our Treasure Chests. The more tickets saved, the larger the available prizes! Even our adult students can find something they like in the Treasure Chest!
Digital Lesson Plans
In addition to traditional paper based notebooks (which we have fully customized for our students through LAAPA Press), all of our teachers additionally publish lesson plans via the My Music Staff platform. This allows our parents and students to login to their account and review assignments, digital files such as PDF sheet music, lyrics, audio files, video files, etc. There is also a spot to log your practice times. E-mail and text reminders also ensure that everyone is always up-to-date on the lastest school news!
Learn to Play the Piano Online or In-Person
Our students can choose to attend their piano lessons in our professional piano studios (featuring Yamaha, Kawai, and Young Chang pianos) or online via Zoom. Students who choose to take their piano lessons online will meet live with their regular teacher each week and should have a stable, high speed Internet connection (cable or fiber highly recommended) as well as a keyboard, digital piano, or acoustic piano.
Purchasing your First Piano or Keyboard
When purchasing your first piano, several options must be considered. Do you want to stick with only traditional acoustic pianos or also consider the ever evolving digital piano? Are you ok spending thousands of dollars on a new or used acoustic piano if you or your student loses interest in lessons within a year or two?
As good as digital pianos have become, they still don't compare to acoustic pianos in our opinion. However, for most beginning piano students, purchasing an inexpensive 61 key keyboard with touch sensitive, full sized keys is perfectly fine to get started with. These keyboards are typically available from $100-200. Check out brands such as Casio and Yamaha. We almost always advise waiting at least a couple of months before making a more significant investment unless you come across an amazing deal or plan to keep the piano for a long time no matter what.
In most cases, we also advise against purchasing a brand new acoustic piano as you can save big with piano stores that specialize in refurbished "like new" Japanese model pianos such as Kawai and Yamaha which look brand new and will last for years. Unlike most American pianos, these pianos are built like tanks and are the brands that we purchase for all of our campuses. Some of the piano shops that we have purchased instruments with include Caruso Pianos and PianoOutlet. For local piano shopping, we recommend checking out Hall Piano Company in Metairie who we've also done business with.
Another excellent resource we recommend when researching the purchase of a new piano is "The Piano Buyer" website.
Watch below as Academy Director Ryan Cullen discusses a few of the many digital piano options that are available.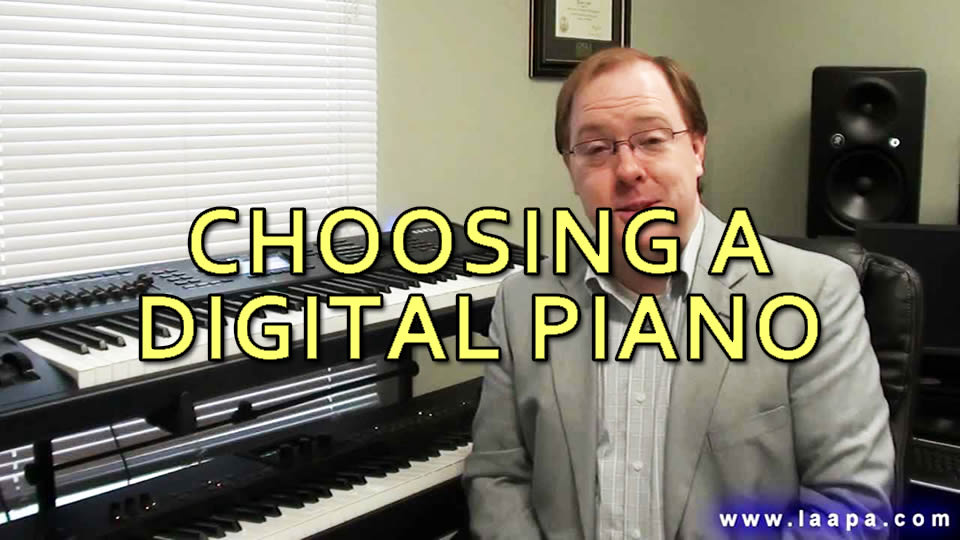 For even more information on piano instruction piano program, please visit our main Piano Program homepage below!
More About Piano Lessons
Check out some of our music blog posts:
Check out some additional location resources:
Driving Directions to Mandeville School of Music & Dance (coming from Mandeville High School)
VIRTUAL CAMPUS TOUR
For even more information on Piano Lessons in Mandeville, please call or text us today at (985) 674-2992 or email us here
Learn more about our Piano Lessons at our other locations: Covington, Harahan, Kenner, River Ridge, Mandeville, New Orleans